"Wally's story is short and simple. It's about hope. It's about looking forward to coming into work every day. It's about being an integral part of the success of your company by applying ideas that you already have and learning new ones. It's about learning how valuable your ideas are and being able to express your visions to drive the company forward. It's about encouraging you to step out. For leaders, it's about opening the flood gates and anticipating and expecting valuable suggestions and contributions from your team."
Wally's Workplace Wisdom:

A Fly's-Eye View of Ways to
Boost Employee Morale and Stimulate Productivity
An e-book by GARY R. CARINI, Ph.D., and MARK G. DUNN, Ph.D.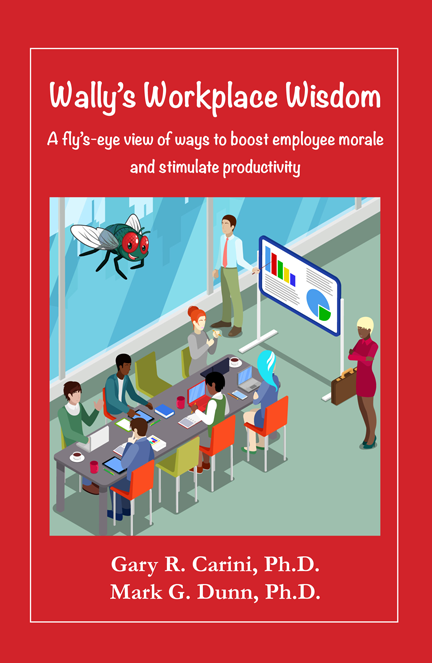 Exclusionary leadership and dismissive management practices may be costing U.S. businesses $500 billion to $600 billion each year. A majority of American workers are indifferent about or emotionally disengaged from their jobs, according to Gallup's comprehensive 2017 State of the American Workplace report. That alarming research study, an indictment of failures in human resources management, disclosed that only 33 percent of American workers are "engaged" in their jobs; 51 percent are indifferent, and 16 percent are "actively disengaged" — they're miserably discontented at work.
Wally's Workplace Wisdom: A Fly's-Eye View of Ways to Boost Employee Morale and Stimulate Productivity dissects the leadership problems plaguing many businesses. In anecdotal fashion, the book explores problems and solutions from a unique perspective — the proverbial "fly on the wall" personified by the title character, a perceptive housefly named Wally.
While the stereotypical struggling business at No. 19 Imperial Drive had some early success, the company never reached its full potential. At the rate it was going, it probably never would. The company was taking steps backward, with no viable plan to reverse this trend. And then it happened – THE event. The story begins on a normal day and, when it concludes, the company has changed forever.
The Gallup study shows that most employees lack faith in their company's leadership. Only 22 percent of employees strongly agree that their leaders have established a clear direction for their company; only 15 percent believe that their corporate leadership inspires enthusiasm about the future; and only 13 percent of survey participants agree that their company's leaders communicate effectively with employees.
Wally's Workplace Wisdom is a short but pragmatic parable illustrating the deleterious effects of management malpractice. Maybe the story is about you. It could be about anyone in your company (or on your team) who has something to share, but for some reason never does. While some employees have valuable insight or information, they are either not asked or are unwilling to share their opinions for fear of subjecting themselves to criticism. Wally's tale illustrates the importance of encouraging everyone to share. For leaders, it's about opening the floodgates, welcoming valuable input from every team member — and stimulating ongoing employee engagement.
Readers will resonate with Wally and the main characters. As the story unfolds, Wally "takes flight" and shares his insights with the leaders at No. 19. His direct, forthright truths, called "Wally's words of wisdom," help transform a dying company into one that holds renewed promise. His wisdom culminates in practical solutions, called "Wally's laws." Wally's greatest contribution is to highlight the importance and significance of the "people dimension."
Wally's Workplace Wisdom: A Fly's-Eye View of Ways to Boost Employee Morale and Stimulate Productivity enables the reader to envision how he or she can change, and help bring about constructive transformation. Very simply, it is about hope, and instills confidence for leaders and team members alike to "take flight" and share their wisdom and knowledge with their team.
About the authors
Gary R. Carini is a professor of management and associate dean for Graduate Business Programs at the Hankamer School of Business at Baylor University in Waco, Texas. He has expertise in forging strategies enabling companies to achieve and sustain a competitive advantage by anticipating and adapting to significant marketplace changes. Throughout the past 20 years, he has served as a strategy and leadership consultant and facilitator for several Fortune 100 companies. Carini's research interests include competitive dynamics, effective strategy implementation, post-acquisition integration, and the link between a company's vision and its leaders. Most recently, his research has focused on qualitatively analyzing mood and tone as expressed through leaders in the healthcare industry, using real-time data.
Mark G. Dunn is a professor of marketing and associate dean for Undergraduate Business Programs at the Hankamer School of Business at Baylor University. He is an authority on consumer shopping patterns; physician-patient relationships in the context of the economics of contemporary health care; the influence of organizational culture in shaping employee behavior; and processes for leading change in a business sector that is undergoing disruption. His research interests include market orientation and market performance, corporate values and market effectiveness, interfunctional relationships, and health care marketing. In addition, he has extensive experience in executive education and consulting in the manufacturing and health care sectors.
Wally's Workplace Wisdom: A Fly's-Eye View of Ways to Boost Employee Morale and Stimulate Productivity is available exclusively in digital (e-book) form for Amazon Kindle, Barnes & Noble Nook, Apple iPad and other electronic tablets.
Genres:
Business and economics / Human resources and personnel management
Business and economics / Organizational behavior
Business and economics / Strategic planning
Business and economics / Leadership
Publisher: EditPros LLC
Date of publication: May 2017
ISBN-13: 978-1-937317-35-5
For e-book readers
ISBN-13: 978-1-937317-35-5
Available for e-book readers in the United States, Canada, the United Kingdom, Australia and other nations (at prices subject to exchange rate variations).
From Amazon.com for Kindle readers

From Barnes & Noble for Nook readers

From Apple iTunes Store for iPad and iPhone (search by title from your device)

From the Kobo Store for Kobo readers