"The bow of the boat lifted, the way it would if I had hit a submerged rock. As surprised as I was, I could clearly see and feel everything that just occurred, as if it were taking place in slow motion. I could see the whale's enormous head, and its dark blackish gray eye. I had the feeling the whale must have seen me also."
Reckoning at Sea: Eye to Eye With a Gray Whale
(A 12-year circumnavigation)
By MAX J. YOUNG
with Marti Smiley Childs and Jeff March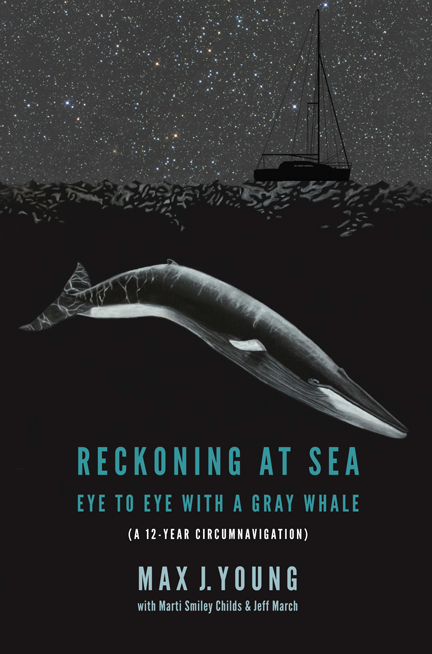 Sailor Max J. Young made front-page newspaper headlines and internationally televised news coverage in June 2012 following his dramatic rescue at sea. As the hours agonizingly ticked away while his beautiful sailboat, Reflections, continued taking on water, Max was preparing himself for the inevitability of drowning when a freighter, the Ocean Virgo, appeared on the horizon. Guided by a U.S. Coast Guard C-130 Hercules long-range surveillance aircraft, the 30,000-ton freighter pulled alongside, and its East Indian crew hauled Max aboard minutes before his sailboat sank thousands of feet to the bottom of the ocean.
Max was sailing alone the night of June 12, 2012, on a northerly course through moderately choppy swells 60 miles off the coast of Baja California, Mexico. He was bound for San Francisco, heading home with only 490 miles remaining on the final leg of a remarkably adventurous 36,660-mile circumnavigation of the globe that he had begun at a leisurely pace 12 years earlier. Alone with his thoughts, Max was contemplating the vastness of the sea and the expanse of the heavens as stars poked pinholes of light through the shroud of a dark, moonless night.
Without warning, a gray whale that likely had been feeding in the depths below breached and landed with full force on the port side stern of the sailboat, causing irreparable damage.
The impact snapped the boat's 2-inch-diameter radio mast, disabled the craft's rudder, and cracked the hull of the vessel. Max fretted about the welfare of the whale after spotting three large chunks of the animal's bloodied flesh on the boat's deck. He snapped his attention to his own predicament when he realized that the boat's three bilge pumps were struggling to keep up with incoming seawater that was filling the boat's bilge. He was engaged in a battle against time to save the boat and his own life. The odds, though, appeared stacked against him. The zipper in his flotation body suit was broken. His life raft would not inflate, and the air pump for his small inflatable boat had fallen into the ocean. A German freighter in the vicinity declined to alter course to pick him up.
During those desperate, lonely hours, Max had his reckoning at sea as he contemplated the nightmarish end of his lifelong dream of sailing around the world. Max Young describes that journey in detail in his book Reckoning at Sea: Eye to Eye With a Gray Whale, written in collaboration with Marti Smiley Childs and Jeff March. The September 2013 edition of Reader's Digest contains a story about Max's circumnavigation adventure.
The dream began when Max was a young boy living in a housing project adjacent to freight railroad tracks in Marysville, California. He slept at night in his small red wagon because his parents couldn't afford a bed for him. But he dreamed big, of one day sailing around the world to visit the South Pacific destinations his dad had seen as a crew member of a military aircraft during World War II. Over the course of his 32-year high school teaching career, Max bought Reflections, modified it, and saved enough money for his circumnavigation journey, which he began on May 8, 2000.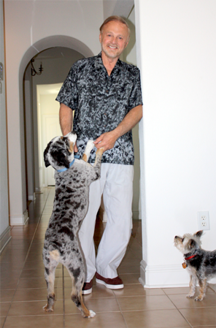 Max completed the journey in phases, some with a crew, some with his wife, Debbie, and daughter, Janelle, and on some stretches, "single-handing" — sailing alone. He tied up in numerous foreign ports and returned periodically to the United States before resuming the journey. His circuitous course took him to numerous islands in the South Pacific, to Australia, to Indonesia and Thailand, across the Indian Ocean, traversing the Red Sea and the Suez Canal to the Mediterranean Sea and Sicily, the homeland of his mother. Max single-handed across the Atlantic and explored the Caribbean before passing through the Panama Canal during what would be the final days of glory for his beloved boat.
Along the way, he and his family befriended scores of welcoming people in exotic lands, and they learned about numerous cultures by experiencing them firsthand. The journey wasn't entirely idyllic, though. They weathered fierce storms, and mistakes by inexperienced crew members put their lives in jeopardy. Max battled serious illness twice; and in the forbidding Strait of Malacca and in the Gulf of Aden, he had two bone-chilling encounters with ruthless pirates.
Reporters interviewed Max when he returned home to Sacramento, California, but then he withdrew from contact with the news media as he settled into a state of melancholy. Months later, after suppressing thoughts about the ordeal, he began experiencing symptoms associated with post-traumatic stress disorder. A counselor encouraged him to think through what he had endured, to talk about it to others, and to express his introspections in writing. He set about doing so, and
Reckoning at Sea: Eye to Eye With a Gray Whale
is the product of that thought process.
(Book cover design and photo of Max Young by Erin M. Childs)
Reckoning at Sea: Eye to Eye With a Gray Whale is available exclusively in digital (e-book) form for Amazon Kindle, Barnes & Noble Nook, Apple iPad and other electronic tablets.
Genre: Autobiography — adventure, travel, sailing

Publisher: EditPros LLC
Date of publication: June 2013
ISBN-13: 978-1-937317-12-6

For e-book readers
ISBN-13: 978-1-937317-12-6

Available for e-book readers in the United States, Canada, the United Kingdom, Australia and other nations (at prices subject to exchange rate variations).
From Amazon.com for Kindle readers
From Barnes & Noble for Nook readers
From Apple iTunes Store for iPad and iPhone (search by title from your device)
From the Kobo Store for Kobo readers