Where Have All the Pop Stars Gone? Volume 3
Have you wondered whatever became of your favorite pop music stars who came to fame in the 1960s and '70s?
Find out in the latest book by
MARTI SMILEY CHILDS and JEFF MARCH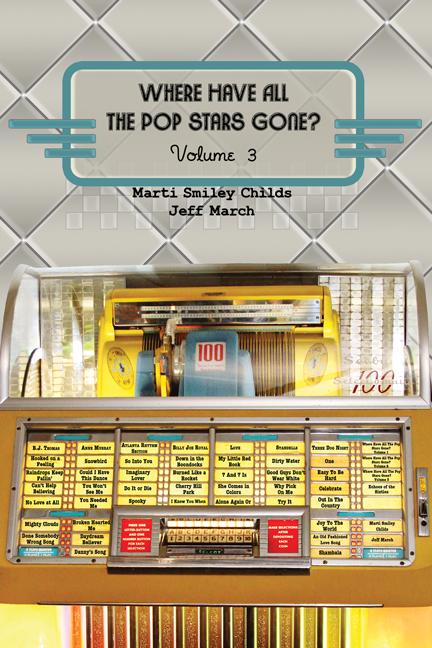 Where Have All the Pop Stars Gone? Volume 3 celebrates talented singers and band members who reached the pinnacle of popularity between the 1960s and '80s. This authenticated biographical book tells the true life stories of 16 singers and musicians who achieved fame as soloists or members of hit-making bands beginning in the 1960s and extending to the '90.
Where Have All the Pop Stars Gone? Volume 3 includes chapters on seven musical groups and solo performers:
ANNE MURRAY, who after soaring to popularity with "Snowbird" in 1970, topped the pop, country, and adult contemporary charts with many of her 80 singles, including "You Needed Me," and earned John Lennon's admiration for her rendition of the Beatles' "You Won't See Me";


BILLY JOE ROYAL, the versatile singer who recorded 1960s pop favorites "Down in the Boondocks" and "Cherry Hill Park," then experienced a resurgence in the '80s with a string of country music hits, including "Burned Like A Rocket" and "Out Of Sight And On My Mind";


B.J. THOMAS, the bluesy pop and country crossover singer whose chart-topping hits included "Hooked On A Feeling," "(Hey Won't You Play) Another Somebody Done Somebody Wrong Song" and the beloved Oscar-winning movie theme "Raindrops Keep Fallin' On My Head";


And members of four brilliant bands:


Buddy Buie, Barry Bailey, Dean Daughtry, J.R. Cobb, Paul Goddard, and Rodney Justo of the ATLANTA RHYTHM SECTION, the top-notch session musicians too good to remain just a backing band, whose hits included "So In To You," "Imaginary Lover," and "Do It Or Die";


Arthur Lee, Johnny Echols, and Michael Stuart-Ware of the band LOVE, who recorded fan favorites "My Little Red Book," "7 And 7 Is," and "Alone Again Or," and whose masterpiece Forever Changes is widely regarded among the best rock albums ever recorded;


Larry Tamblyn and John "Fleck" Fleckenstein of the STANDELLS, known equally for "Dirty Water," the anthemic rallying cry for Boston pride, and "Try It," the mildly titillating song that unintentionally provoked a nationwide controversy about lewd lyrics; and


Chuck Negron and Floyd Sneed of THREE DOG NIGHT, which during a nine-year span attained a seemingly unstoppable run of success, with 21 consecutive top 40 hits, including the No. 1 smash hits "Mama Told Me (Not To Come)," "Joy To The World," and "Black And White."
The seven groups and soloists collectively amassed a total of 104 singles on the Billboard Hot 100, including 38 that reached the top 20 and six that hit No. 1. Their recordings also encompassed 84 singles on the country music chart, including 44 that peaked in the top 20, and 12 that hit No. 1.
Where Have All the Pop Stars Gone? Volume 3, describes the childhood experiences and adult lives of these performers, many of whom stepped away from the stage and recording in order to raise their families and pursue other careers and interests. Through conversations with those singers and musicians, as well as producers, managers and family members, we share fascinating behind-the-scenes glimpses into the lives of these creative, talented people.
Every chapter begins with an introductory essay recounting the hit-making achievements of each soloist or band with an accompanying discography, then is subdivided into "epilogues" about the lives of each of the performers.
This is a book focusing primarily on the personal lives of soloists and members of bands — although not necessarily all of the members of each band. Some performers did not respond to our requests to speak with them. Some declined to discuss their personal lives with us. Some band members were willing to speak with us only if we agreed to refrain from contacting certain other member of the group, for personal reasons or due to litigation that had occurred between them. We are grateful to those participating artists who agreed to speak with us about themselves and the lives they have led.
Where Have All the Pop Stars Gone? Volume 3 preserves conversations with three performers who have died since Childs and March spoke with them — producer Buddy Buie and bass player Paul Goddard of the Atlanta Rhythm Section, and singer Billy Joe Royal. Our conversations with Goddard took place within two months of his death. Speaking with refreshing candor, Paul called his chat with us "cathartic." That likely was his last wide-ranging conversation for publication. We fondly remember and honor them.
Where Have All the Pop Stars Gone? Volume 3 is available as a trade paperback through Amazon.com, Barnes and Noble and other online sellers. It also is available in digital (e-book) form for Amazon Kindle, Barnes & Noble Nook, Apple iPad and other electronic tablets.

Genre: Biography — musicians, music history, pop culture

Publisher: EditPros LLC

Date of publication: June 2016
5.8 x 8.25 in., 362 pages;
ISBN-13: 978-1-937317-25-6

Available in the United States, Canada, the United Kingdom, Australia and other nations (at prices subject to exchange rate variations).
Distributed by Ingram Book Co., the world's largest book wholesale distributor, as well as Baker & Taylor, and NACSCORP.
For e-book readers
ISBN-13: 978-1-937317-26-3

Available in the United States, Canada, the United Kingdom, Australia and other nations (at prices subject to exchange rate variations).
From Amazon for Kindle readers
From Barnes & Noble for Nook readers
From Apple iTunes Store for iPad and iPhone (search by title from your device)
From the Kobo Store for Kobo readers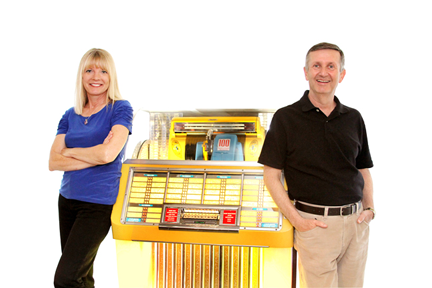 The authors
Marti Smiley Childs (left) and Jeff March with 1951 Seeburg 100c Select-O-Matic jukebox (from the collection of Cindy and Terry Knight).
Photo and book cover design by Amanda Domingues.
"Like" our "Where Have All the Pop Stars Gone"
Facebook page for daily posts celebrating anniversaries in the history of pop and rock music.