Where Have All the Pop Stars Gone? Volume 2
Have you wondered whatever became of your favorite pop music stars who came to fame in the 1960s?
Find out in
Where Have All the Pop Stars Gone? Volume 2
by MARTI SMILEY CHILDS and JEFF MARCH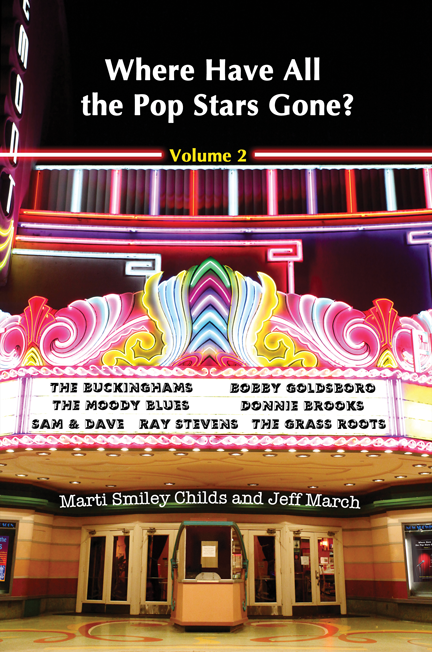 Read the authorized true life memoirs of 20 singers and musicians who achieved fame as soloists or members of hit-making bands in the 1960s. The authenticated biographical book Where Have All the Pop Stars Gone? Volume 2 describes the childhood experiences and adult lives of these performers, many of whom stepped away from the stage and recording in order to raise their families and pursue other careers and interests. It describes the ways in which many of them confronted and resolved troubling obstacles in their personal lives.
Through conversations with those performers, as well as producers, managers and family members, we share fascinating behind-the-scenes glimpses into the lives of these creative, talented people.
Where Have All the Pop Stars Gone? Volume 2 includes chapters on seven musical groups and solo performers:
THE BUCKINGHAMS, a Chicago-bred quintet whose songs include the chart-topping hit "Kind of a Drag" and the top-10 songs "Don't You Care" and "Mercy, Mercy, Mercy." The hybrid "pop-rock horn sound" that the band innovated would later be embraced by other bands, including Blood, Sweat and Tears, Chase, and Chicago. The chapter profiles the lives of lead singer Dennis Tufano, singer and guitarist Carl Giammarese, saxophonist and piano player Marty Grebb, bass guitarist Nick Fortuna, and the band's drummer and leader, the late John Poulos;
BOBBY GOLDSBORO, a country-pop singer-composer who is best known for his gold record "Honey," and whose hits also included "Little Things," "It's Too Late," and "Summer (the First Time)." After launching his career as a member of Roy Orbison's band, Goldsboro became not only a successful solo recording artist but also host of the highest-rated TV variety show in syndication in the 1970s, creator of children's TV programs, and owner of a successful music publishing house;
THE MOODY BLUES, the phenomenal band that brought rock music to an unprecedented level of sophistication with the groundbreaking concept album Days of Future Passed, and whose 20 chart hits included the top-10 singles "Go Now," "Your Wildest Dreams," and the gold record "Nights in White Satin." The chapter focuses on the lives of the co-founders of the Moody Blues — Mellotron player Mike Pinder and flute player Ray Thomas — and about why they chose to leave the band as it continued touring and performing in sold-out concerts decades after its formation;
DONNIE BROOKS, whose three chart singles included the top-10 hit "Mission Bell," and whose later work as a promoter into the early 2000s kept an innumerable number of '60s performers working on stage. Brooks, who endured a bleak childhood, carved out a varied career that encompassed screen acting, musical theater and nightclub entertaining. Donnie, who died in 2007, became co-creator of the "30th Anniversary of Rock 'n' Roll" tour that staged performances nationwide;
SAM AND DAVE, whose frenzied live performances established them as the most electrifying duo in the history of rhythm and blues music and earned them the appreciative nickname "the Sultans of Sweat." Their top-selling hits included "I Thank You" and gold records "Hold On, I'm Comin'" and "Soul Man." Their string of hits during the 1960s celebrated the gospel roots of Southern soul music. The chapter profiles the lives of Sam Moore and the late Dave Prater Jr., both of whom were inducted into the Rock & Roll Hall of Fame in 1992;
RAY STEVENS, a prolific composer as well as singer and producer whose repertoire encompasses comedic novelty tunes, ballads, and "message" songs, including the top-10 hit "Ahab the Arab" and gold-certified "Gitarzan," "Everything Is Beautiful," and "The Streak." He's been a recording session producer, a music publisher, a session musician, a disc jockey, a musical theater owner, and a television program host as well as a recording artist with top-10 hits on both the pop and country music charts; and
THE GRASS ROOTS, one of the early progenitors of folk-rock whose sound evolved into blues-influenced pop, and whose 21 chart singles included the top-10 hits "Let's Live For Today" and "Sooner or Later," and the gold record "Midnight Confessions." The band that began in 1965 as an outlet for the Dylanesque compositions of co-producers Steve Barri and P. F. Sloan continued recording hits well into the '70s. The chapter profiles the lives of first-generation Grass Roots lead singer and guitarist Bill Fulton, rhythm guitarist Denny Ellis, bass player Dave Stensen and drummer Joel Larson; and second-generation Grass Roots lead singer and bassist the late Rob Grill, lead guitarist Creed Bratton, rhythm guitarist-keyboard player Warren Entner, the late drummer Rick Coonce, and keyboard player Dennis Provisor.
This is a book focusing primarily on the personal lives of soloists and members of bands — although not necessarily all of the members of each band. Some performers did not respond to our requests to speak with them. Some declined to discuss their personal lives with us. Some band members were willing to speak with us only if we agreed to refrain from contacting certain other member of the group, for personal reasons. The essay that begins each chapter presents a contextual background, describing the recording achievements of each performer or group, as an introduction to the artists whose lives we discuss. We are grateful to those participating artists who agreed to speak with us about themselves and the lives they have led.
Where Have All the Pop Stars Gone? Volume 2 is available as a trade paperback through Amazon.com, Barnes and Noble and other online sellers. It also is available in digital (e-book) form for Amazon Kindle, Barnes & Noble Nook, Apple iPad and other electronic tablets.

Genre: Biography — musicians, music history, pop culture

Publisher: EditPros LLC
Date of publication: November 2012
5.8 x 8.25 in., 280 pages;
ISBN-13: 978-1-937317-05-8

Also available in the United States, Canada, the United Kingdom, Australia and other nations (at prices subject to exchange rate variations).
Distributed by Ingram Book Co., the world's largest book wholesale distributor, as well as Baker & Taylor, and NACSCORP.
It's available from local bookstores and from
For e-book readers
ISBN-13: 978-1-937317-06-5

Available in the United States, Canada, the United Kingdom, Australia and other nations (at prices subject to exchange rate variations).
From Amazon.com for Kindle readers
From Barnes & Noble for Nook readers
From Apple iTunes Store for iPad and iPhone (search by title from your device)
From the Kobo Store for Kobo readers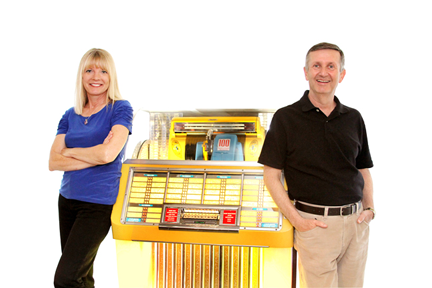 The authors
Marti Smiley Childs (left) and Jeff March with 1951 Seeburg 100c Select-O-Matic jukebox (from the collection of Cindy and Terry Knight).
Photo and book cover design by Amanda Domingues.
"Like" our "Where Have All the Pop Stars Gone"
Facebook page for daily posts celebrating anniversaries in the history of pop and rock music.