The EditPros book preparation service for authors who want to self-publish.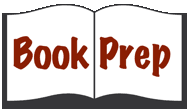 Book Prep is a service that EditPros LLC offers to help authors prepare their manuscripts for self-publication and to guide them in managing their own books — thereby enabling them to retain all rights to their book and collect 100 percent of sales royalties. While we primarily serve California's Yolo, Sacramento and Solano counties, we have worked with writers throughout the United States.
What we'll do for you:
Design your book cover using graphics you supply, or we will create a professional-looking custom front and back cover.


Professionally format the interior pages of your book, based on the size specifications available from the POD (print on demand) printer.


Format and convert your book files to .epub formats for Amazon (Kindle), Apple (iBooks), Barnes & Noble (Nook), and others, for submission to IngramSpark's e-book service. We also will create a secure PDF of your book, which is readable on all computers, but secure to avoid text copying or editing.


Show you how to set up an account with IngramSpark, a print-on-demand (POD) producer owned by Ingram, the world's largest book distributor. IngramSpark will make your book available to domestic and foreign audiences on Amazon.com, BarnesandNoble.com, booksamillion.com, and other online bookstores. Most bookstores have an Ingram account and can order your book for their customers.


Help you obtain ISBN and Library of Congress control numbers.


Prepare a news release about your book for distribution to the news media.
EditPros Book Prep helped authors publish these books:



I Guess I Just Wasn't Thinking
Part 1: Instead of Skipping Stones
By W.K. "Jake" Wehrell
Published: March 2017
I Guess I Just Wasn't Thinking – Part One: Instead of Skipping Stones is the first in a series of books portraying the life of Roger Yahnke, who grew up in the 1950s and '60s. The book is an unlikely prelude to Roger's future duplicitous global adventures. It is a collection of innocent and endearing admissions; a fresh and confidentially narrated pre-teen to adult memoir. The reader will be caught up in a succession of delicate, weighty, and progressively more thought-provoking scenarios. Readers will find themselves smiling or wincing at Roger's adolescent doubts, conclusions, and best-guess responses — up to and including his almost happenstance choice of a life's work.
In sharing with you his youthful aspirations, efforts, understandings, and misgivings, Roger hopes to gain some credibility and maybe even a bit of affection, before later disappointing you with a surprising string of selfish, inconsiderate and often illegal activities.
Excerpt:
Kids generally listen real hard whenever their parents' voices go hushed, or if we see them react with unusual concern. Well, I was one of those kids, and Dad frequently gave me occasion to respond accordingly. He had a way of registering a look of shocked disbelief whenever some information came his way that was outside his data base. As good a man as he was, it was not because he had spent his youth reading or perfecting cause-and-effect reasoning. He had his own facts; a long list of things that, irrespective of their lack of statistical or scientific basis, were certainties to him. While growing up, what his "Pop" had told him, or other finger-shaking adults had said, became his encyclopedia.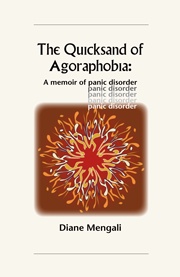 The Quicksand of Agoraphobia:
A memoir of panic disorder
By Diane Mengali
ISBN 978-0-9996471-0-3 — paperback
ISBN 978-0-9996471-1-0 — e-book
Published: November 2017
According to the National Institute of Mental Health, 6 million people suffer from panic disorder each year, and 15 million have a lifetime prevalence of the disorder. Only one in four people who experience panic attacks receives appropriate treatment.
Diane Mengali grew up in Northern California in the 1950s, when family dysfunction was cloaked in denial. On the outside, her family appeared functional and successful, but the part hidden from view was her mother's depression, alcoholism, and suicidal tendencies, and her father's intolerant attitude and infidelity. As a child, Diane internalized her mother's fear and insecurity and by age 10, she had become a chronic worrier.
Diane married Dave in 1966. She had her first panic attack in August of 1967. While disturbing, she saw it as an isolated event, not the life-altering siege it soon became. A world of confusion unfolded in 1975 when Diane met Ellen, a registered nurse. What began as a friendship, turned into an affair, forcing Diane to question her sexuality and to seek counseling. After much turmoil, Diane and Ellen moved in together. Her marriage to Dave ended in 1980.
In 1983, a psychiatrist diagnosed Diane with agoraphobia, a type of anxiety disorder in which one fears and avoids any situation that may cause panic and is usually accompanied by feelings of helplessness, shame, and being trapped. A few years later, she found a therapist who guided her through long-dormant painful emotions, introduced her to behavior modification and the life-saving practice of mindfulness.
Diane hopes her story will help people understand the torment and terror that people with panic disorder and agoraphobia face on a daily basis. Panic disorder need not be a life-altering, frightening struggle. With early diagnosis and treatment, panic disorder can be treated with therapy and medication.

It Only Hurts When I Sit Down: A Bicycle Adventure on Historic Route 66
By Douglas L. Waterman
ISBN 978-0-6927634-0-7 — paperback, available from Amazon and Barnes & Noble
Published: August 2016
Not long after his retirement from his 35-year teaching career, cycling enthusiast Douglas Waterman hatched the notion of bicycling the entire 2,300-mile length of a highway that no longer officially exists — old U.S. 66. "I was sitting with my dad in his living room in Santa Fe, New Mexico, my eyes wandering over his impressive collection of road maps," Doug recalled. "He and mom had traveled a lot in their lifetime but now in their old age, their deserted maps were gathering dust, fading in the morning sunlight on a bookshelf to my right. I felt like I'd uncovered ancient drawings, long forgotten in a museum basement drawer, each one showing the way to priceless treasure. Back home in California I pored over dad's maps. I traced the red line that represented Route 66 and imagined following it on my 18-speed road bike. What a thrill it would be to pedal from Santa Monica to Chicago, from the Pacific Ocean to the shore of Lake Michigan, my dream unfolding like the maps dad had given me."
This book chronicles that journey, which Doug used as a means to raise funds for Habitat for Humanity. His story weaves the fascinating history of the Mother Road with the obstacles and rewards he encountered — from violent weather and crowded two-lane highways and city streets to interesting and changing landscapes, and the wonderful friends, old and new, who cheered him on.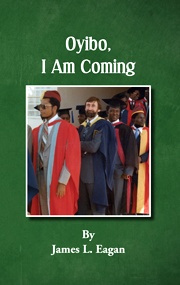 Oyibo, I Am Coming
By James L. Eagan
Published: November 2017
Oyibo, I Am Coming is a memoir that James Eagan wrote about his family's experiences living in Ilorin, Nigeria, Africa, from 1979 to 1981. After receiving a job offer to help start the Mechanical Engineering Department at the University of Ilorin, Eagan and his family traveled to Nigeria and entered a very different lifestyle and culture.
Several years after moving back to Northern California, Eagan took a course in oral history writing from the University of California Extension and decided to interview his three children Lisa, Natalya and Sean, and his wife, Karen, about their recollections of living in Nigeria. According to Eagan, Oyibo is a slang Yoruba word to identify white people. The tone of the word lets you decide how the speaker is feeling about the person it is applied to. The word literally means skin peeled back.
He wrote, "When white people, 'European' from any country, enter a small village in Nigeria, the children come running out to see them, calling Oyibo, Oyibo, meant as a friendly greeting. When I walked into a grocery store or stood in a line there, a voice from the back was likely to call out: 'Oyibo, I am coming.' It meant, 'I know you are there and I will come soon.' I think maybe you would have to go to Yoruba-speaking Nigeria to hear these words to get the full picture. Or, you could ask any of the children mentioned in this story. Although they are adults now, they could still bring up just the right intonation, and you would likely be delighted."
James Eagan wanted to publish this book for his family, but he died before it came to fruition. His wife, Karen, learned about EditPros LLC Book Prep service and asked if we could help her self-publish her husband's book. She edited the text and supplied all of the family photos for the cover and inside the book, and choose to have the photos printed in color throughout. While the book is available for wholesale purchase by Karen and her family, she decided against enabling it for sale by Amazon, Barnes and Noble or other retailers.


Bowles Hall Residential College
University of California, Berkeley
Chronology of Activities and Events


By Louis E. Grivetti
ISBN 978-0-9978109-0-5 — paperback, available from Amazon and Barnes & Noble
ISBN 978-0-9978109-1-2 — e-book, available from Amazon and Barnes & Noble
Published: August 2016
The chronological history of Bowles Hall Residential College is presented through a compilation of documents, images, and texts. It is a story of family generosity and philanthropy that begins with vision of Mary A. McNear Bowles to honor her deceased husband, Philip E. Bowles, by a gift to the University of California, Berkeley, to construct the first residential college in North America.
Chronicled are the activities, events, and experiences that illustrate the character and changes of Bowles Hall Residential College through the decades since 1927. The content also details the efforts and challenges faced by the Bowles Hall Alumni Association (BHAA), Bowles Hall Foundation (BHF), regional friends, and supportive Berkeley campus administrators, to restore Bowles Hall to its former greatness.
When Your Child Has Lyme Disease — A Parent's Survival Guide
By Sandra K. Berenbaum, LCSW, BCD and Dorothy Kupcha Leland
ISBN 978-0-9962243-0-7 — paperback, available from Amazon and Barnes & Noble
ISBN 978-0-9962243-1-4 — e-book, available from Amazon and Barnes & Noble
Published: September 2015
Lyme disease can cause puzzling symptoms in children, including pain, fatigue, gastrointestinal upsets, learning disabilities, behavioral issues and psychiatric problems. It can be hard to diagnose, however, and Lyme-related controversies in the medical world complicate the situation even more. Parents seeking help for their suffering children often don't know where to turn.
When Your Child Has Lyme Disease: A Parent's Survival Guide is filled with information parents need to know about Lyme, as well as practical strategies based on the authors' personal and professional experiences. It offers advice on finding the right medical care, coping with treatment, developing effective boundaries with others who don't understand what your family is going through, advocating for your child's educational needs, and managing day-to-day family life.
Sandra K. Berenbaum, LCSW, BCD, who has counseled Lyme patients and their families for more than 20 years, has developed responsive psychotherapy, a unique approach to helping families overcome the challenges of Lyme disease.
Co-author and mother Dorothy Kupcha Leland is a national activist who writes the blog Touched by Lyme.
Voices of a Dream — Stories from A Touch of Understanding
Leslie DeDora, editor
Jill C. Mason, editor
Bob Schultz, editor
ISBN 978-0-692-64590-1 — paperback, available from Amazon and Barnes & Noble
ISBN 978-0-692-64591-8 — e-book, available from Amazon and Barnes & Noble
Published: March 2016
Do you remember when you were a child in school? Can you picture that one student who was always teased or bullied because he or she seemed "different?" It may have been the way she walked, or the way he struggled to read. He may have had emotional outbursts. She may have used a wheelchair. There was at least one student who was teased or bullied for being different. You may have seen it happen. You may have been the one teased or bullied. Or, you may have been the bully. Everyone has been touched by this destructive cycle.
A Touch of Understanding (ATOU) is a nonprofit organization that helps children who are the victims of teasing and bullying, along with those who witness the incidents and the children who do the teasing and bullying. Voices of a Dream introduces the ATOU team members who helped one woman turn her dream into a movement to promote genuine inclusion of all children in school and community settings — a movement touching thousands of lives each year, breaking down the walls of misunderstanding and abuse, and building bridges of friendship.
Read about an aerobatic pilot who uses two myoelectric hands; a young woman with autism who stretched beyond her comfort zone and is now in film school; and a survivor of a tragic drunk driving accident who was the impetus for this book. Learn about the many people who come together to share their stories to educate and inspire a new generation to welcome those who seem "different" for any reason.
"I was one of the first students to participate in ATOU's workshops many years ago. I was a second grader at the time, and I remember being so intrigued by the workshop. It opened my eyes to things I had never thought about before. Now, many years later, I have come to appreciate ATOU even more. In fact, I have become a special education teacher...." —Stacie Ohara


AUTHORS HAVE DIVERGENT BOOK PUBLISHING NEEDS. While some want a publisher to handle the design, editing, layout, printing, registration (ISBN, Library of Congress control number), promotion, distribution, and sales tracking of their books, others would rather do it themselves so they can retain complete control and earn 100 percent of royalties.